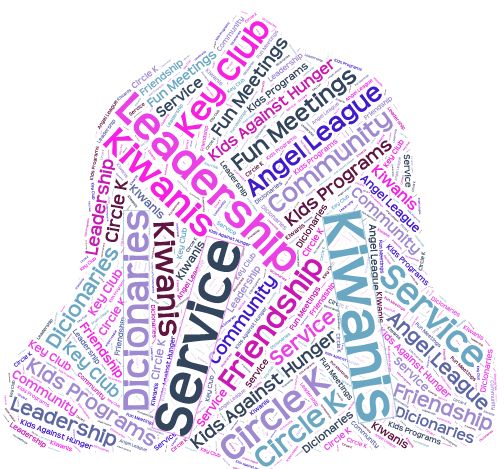 The Kiwanis Club of Allen is part of Kiwanis International, a service organization whose motto is Serving the Children of the World. Kiwanis is a global organization of volunteers dedicated to changing the world one child and one community at a time.
We are business leaders and residents of Allen and surrounding communities who come together to provide, through our club, a practical means to form enduring friendships, to render altruistic service, to build a better community and develop our youth through action and example to be service driven leaders of the future.
A Brief History
Since its founding in Detroit, Michigan, in 1915, Kiwanis has grown to about 9,000 clubs in more than 80 nations.  Kiwanis Club of Allen, Texas, was organized at K-Bob's Steakhouse in Plano on February 4, 1988, with thirty-one members by Texas-Oklahoma District of Kiwanis International.  The McKinney Kiwanis Club with Steve Ferguson serving as club president was the sponsoring club.  Originally assigned to Division 8 and later to Division 37, Allen Kiwanis Club is currently assigned to Division 2 of Texas-Oklahoma District.
As a member of the Allen Kiwanis Club, men and women of all cultures have the opportunity to make business and professional contacts; learn about local, national, and international issues; improve leadership skills; and participate in the life of their community.  Fund raising projects include placing US flags throughout our community on Flag Days, sponsoring the Ron Gentry Memorial Golf Tournament, and hosting the Kiwanis Pancake Breakfast With Santa.  Service projects include support to Allen Community Outreach, Samaritan Inn, and Children Miracle Network.  This club sponsors Circle K at University of Texas at Dallas along with Key Clubs at Allen High School, Independence High School-Frisco, and Reedy High School-Frisco. In addition, for Allen ISD and Lovejoy ISD, Terrific Kid certificates are made available in grades K-6 and dictionaries are awarded annually to all third graders.  Club scholarships are given each year to graduating seniors and to sophomores for leadership seminars.
SUCCESSION OF CLUB PRESIDENTS
Chartered February 4, 1988
Jerry Burleson Organizing President
Susie Bartlemay 1988 – 1989
Ben Hubert 1989 – 1990
David Olson ** 1990 – 1991
PD Thomas 1991 – 1992
Ernie Pero 1992 – 1993
Kris Kistner ** 1993 – 1994
Michael Stanger 1994 – 1995
Randy McDaniel 1995 – 1996
Barbara McEwen 1996 – 1997
Mike McChesney 1997 – 1998
Rick Aubry 1998 – 1999
Colleen Biggerstaff **† 1999 – 2000
Mike Hagood 2000 – 2001
Sally Terrell 2001 – 2002
Lee Howard 2002 – 2003
Joey Herald 2003 – 2004
Charisse Bodisch 2004 – 2005
Kurt Kizer 2005 – 2006
Larry Nordgaard 2006 – 2007
Lisa Cochell 2007 – 2008
Dan Bowman 2008 – 2009
Jeri McGraw 2009 – 2010
Debbie Stout 2010 – 2011
Colleen Biggerstaff**† 2011 – 2012
Shawn Wade** 2012 – 2013
Tonya Moore 2013 – 2014
Russ Waite 2014 – 2015
Bill Severin 2015 – 2016
Don Ables 2016-2017
Griff Moore 2017-2018
** Served as Lieutenant Governor of assigned Kiwanis Division
† Served as TX-OK District Governor 2014-2015
Save