We always have a packed house when Allen Football Head Coach Terry Gambill tells us how our Eagles will do this year!
Allen Kiwanis Vice President Ernie Pero welcomed Julie Macpherson, Chief Client Services Officer of Allen Community Outreach, as our speaker on June 6th. ACO has been serving Collin County, Texas since 1985.
Our weekly speakers are given a certificate with the name of the book donated in their name as their speaking gift.
Allen Kiwanis President Randy McDaniel is giving books in honor of our weekly speakers to Boyd librarian, Michelle Oeltjen. All speakers names are listed in new books the Allen Kiwanis club buys in concert with the Boyd Elementary library's needs.  They will continue this process into the next year.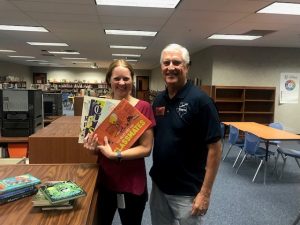 We thank Jason Umali and Andrew Schoffler for telling us about Illumination Fireworks' pyrotechnic endeavors.