Allen Kiwanis Angel League
Games Played at  Allen Station Park 1120 N Cedar Dr, Allen, TX 75002 Field 1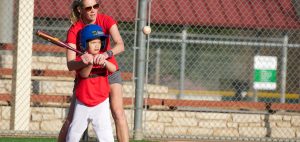 The Angel League t-ball/softball program is sponsored by our club. The goal of the program is to provide a positive recreational opportunity for special needs children ages 5 to 20 needing a modified sports activity. Children and adolescents learn how to pitch, catch, run the bases, throw the ball, and play with a team of other children to the level of their ability. Each player has one or two high school "buddies" to help them be successful and applaud their successes. Parents tell Kiwanis members how much their child loves playing in the Angel League and how much they look forward to each game. Buddies tell us how much the player they work with improves during the season. Players are rewarded for their successes with a trophy handed out at the end of the season at a pizza, cake, and drinks banquet sponsored by our club.
Click here for Allen Angel League Signup Form
Third Grade Dictionary Project
The dictionary project for Allen Kiwanis Club began in Fall 2005 as a joint project with Allen Republican Women's Club. The objective of this project is to place in the hands of all third graders of Allen ISD and Lovejoy ISD a personal copy of Webster's Dictionary for Students. After ten years, this project distributes annually some 2000 dictionaries among students in the twenty elementary schools of Allen and Lovejoy districts. On presentation day, two or three club members offer a brief introduction of the dictionary either in separate classrooms or in a grade level assembly. A fun lesson reinforces earlier classroom instruction on how to use dictionary and emphasizes the resources in the appendix to include maps along with various lists, tables, and rules of English language. Students are encouraged to write their name in their very own book and to keep it handy for future use and sharing at home. All of this because learning is important!
Kids Against Hunger
 
Kids Against Hunger is a non-profit humanitarian organization with a mission to provide fully nutritious food to impoverished children and families around the world…and around the corner. The goal of the organization is for the meals to provide a stable nutritional base from which recipient families can move their families from starvation or food insecurity to self-sufficiency.
The manual food packaging process not only feeds many children and families, it also brings satisfaction and deep engagement to the volunteers who package it. For most volunteers, it is the ultimate hands-on contribution that, because of its simplicity, individuals from age 3 to 90+ can perform. We have participated in this program for over 14 years and have shipped over 8 million meals to starving and malnourished people worldwide.
Contact Sharon Brian, slb5050@yahoo.com for more information.
Kiwanis International Eliminate Project
| | |
| --- | --- |
| Five years ago, the Allen Kiwanis Club committed to donating $42,000 to the Eliminate Project to help rid the world of tetanus. We have now paid off this debt. | |
ACO Fill the Bus
| | |
| --- | --- |
| | Allen Kiwanis donated 8541 items, including backpacks, pens, pencils, highlighters, paper, glue, scissors, notebooks, tissues and gift cards to ACO for use in Allen schools. |
Hurricane Harvey Relief
Journey of Hope